LIVE ROOM

The live room at big limbo has the capacity for both individual tracking and full band recording with isolation baffles and a foldback system equipped for a full band. It contains a rock and jazz kit, organ, upright piano, and various fender amps, and with a live PA system the room can also be used for exploring song ideas.
---
CONTROL ROOM

The control room is situated above the live room kited with our 16-channel mixing desk, monitors as well as home to our vintage synth collection and all kinds of toys. The beauty about this room is the natural light and it's generally a place for bands and crew to hangout making the whole process easy and relaxed.
---
STUDIO B


Studio B, which is an acoustically treated, naturally lit production and mixing space equipped with vintage speakers and modern recording equipment. As the space is minimal in aesthetic, it is more suitable for the final creation of a project as there is less room for distraction with musical 'toys'. Located outside of Studio B is a comfortable waiting room area that has access to a vintage Organ and a variety of percussion instruments to keep your clients busy.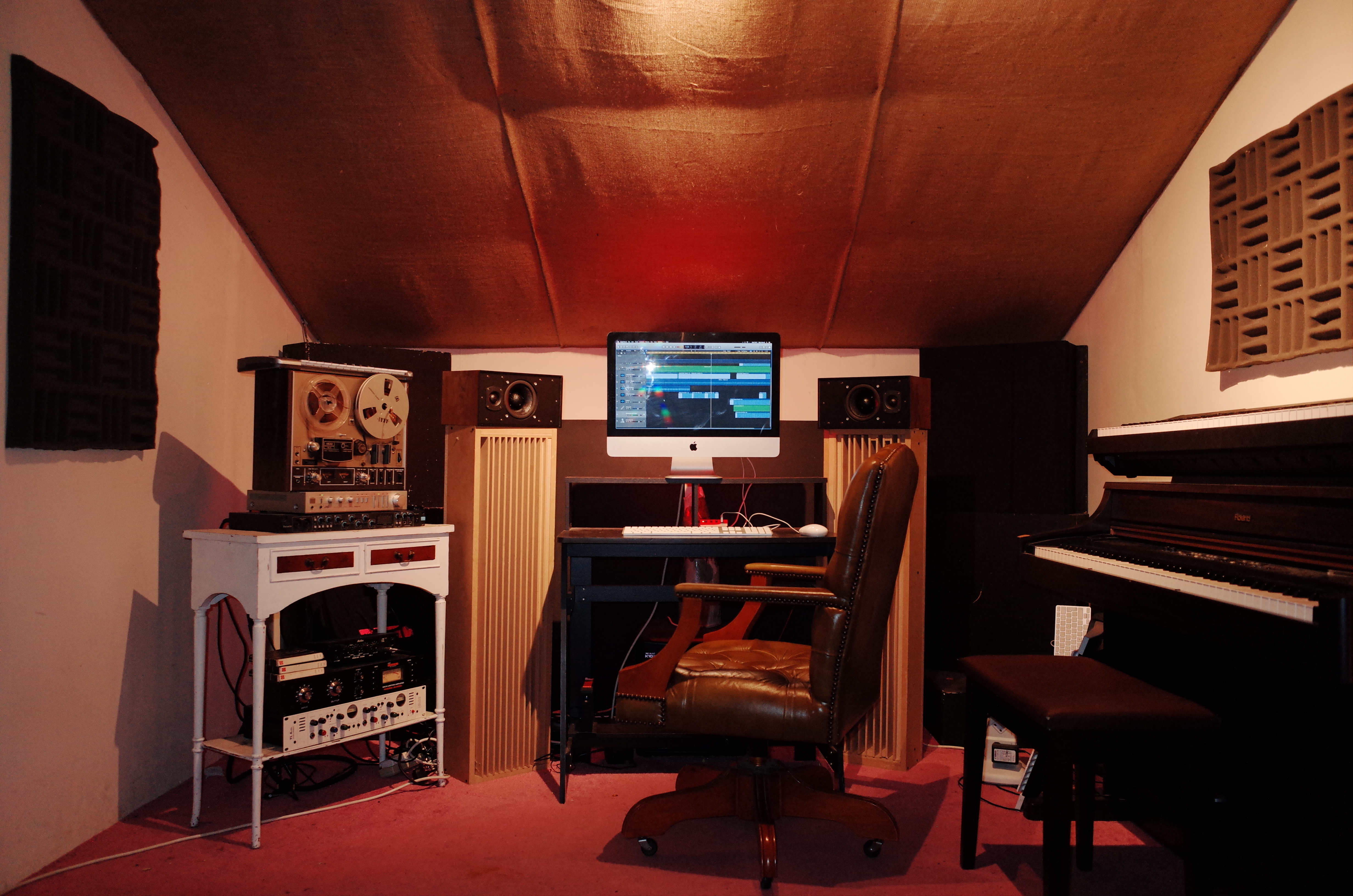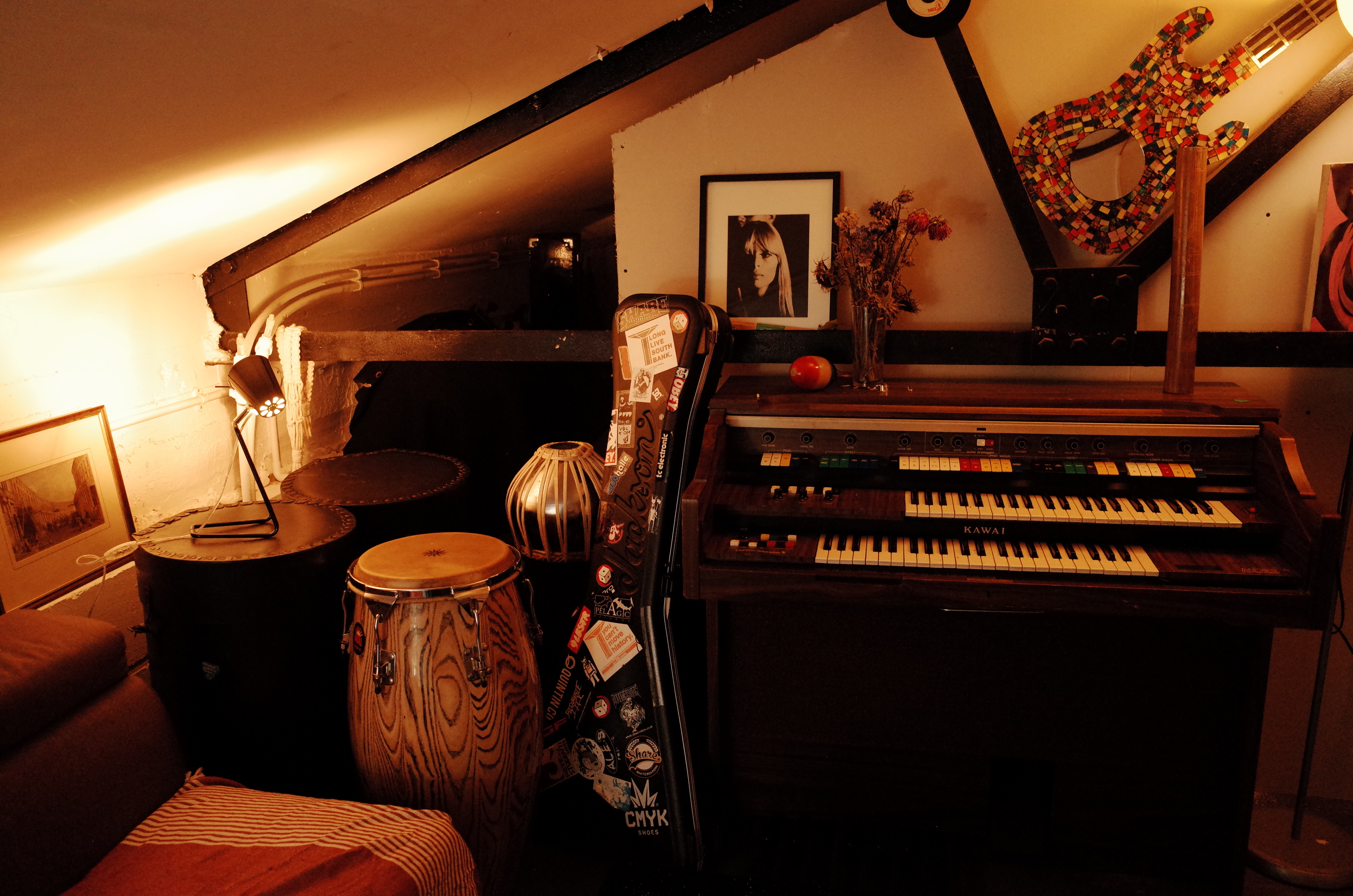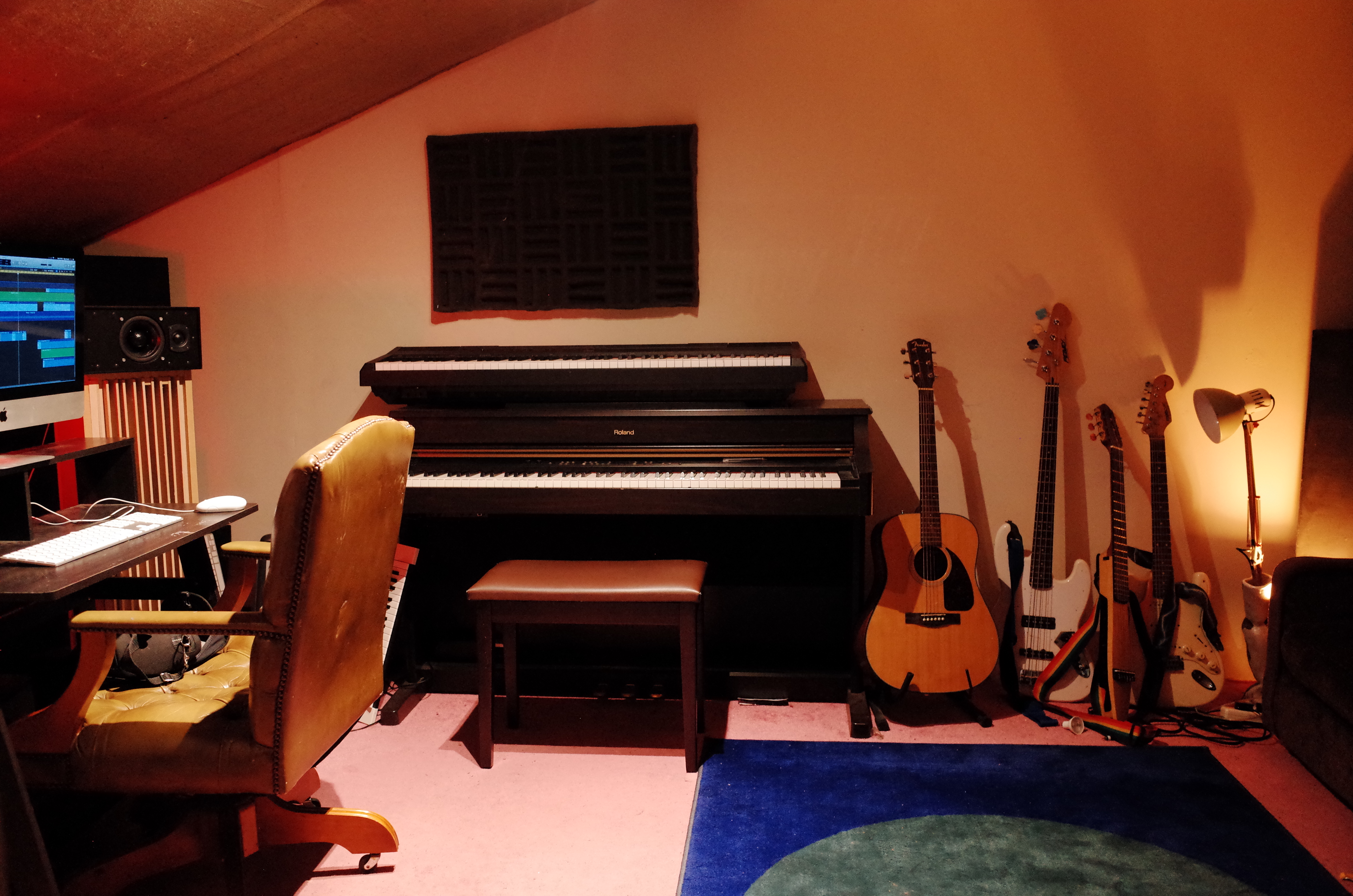 ---
GARDEN

At Big Limbo we share a tranquil outdoor garden with the rest of Fish Island overlooking the canal and Olympic Park.
---
BUILDING BIG LIMBO

After no luck of finding a space we could afford, make noise, or even call our own, we came to the realisation that we must build our own. Over three months the Big Limbo team built the live room creating a vacuumed space to play, record and make noise.

---
SERVICES

MUSIC PRODUCTION
RECORDING
DRY HIRE
MIXING
PODCAST/VO
COMPOSITION AND SYNC

---
EQUIPMENT LIST


Instruments
Keyboards
Yamaha Digital Piano P115
Roland HP1 07E Digital Piano
Danemann 1893 Upright Piano
Rosedale Electric Chord Organ/
Harmonium Virtuoso Cortina
Casiotone 403 Keyboard
Nord Electro 4D Keyboard
Synthesisers
Electric Chord Bass II Multiple Orchestra
Ensemble Organ
Korg Synthesiser MS 20 Mini
Korg Minilogue Polyphonic Analog Synthesiser
Korg R3 Synthesiser
Yamaha Digital Drum Bank DD10
Moog Opus 3 Organ Analog Synthesiser
Korg Delta Analog Synthesiser
Roland SH201 Synthesiser
World Instruments
Sitar
African Acoustic Guitar
Ozark Banjo
Toy Keyboards


Grandstand Music Maker Toy Keyboard
Casio SA 20 Toy Keyboard
Woodwind
Saxophone
Flute
Clarinet
Microphones
Sennheiser MD421 Dynamic Microphone
AKG D112 Dynamic Microphone
Stereo Pair of SESE1 A's Condenser Microphone
Sennheiser E906 Dynamic Microphone
Shure SM 57 Dynamic Microphone
Electrovoice are E 20 Dynamic Microphone x 2
Beyerdynamic M1 60×2 Ribbon Microphone
Beyerdynamic M20 1TGM Dynamic Microphone
Audix Elite eight Drum Microphone set
Sound Man OKM Binaural Microphones
DPA 4091 Omnidirectional Condenser Microphones Pair
AKG Condenser Microphone
Behringer Condenser Microphone
Pair of Handmade Omnidirectional Microphones
T Bone Retro Tube II Valve Microphone
Rode T2A Condenser Microphone
Shure SM7B Dynamic Microphone
Behringer Ultravoice XM1800S Dynamic Microphone
Shure SM 57 Dynamic Microphone
Shure SM 58 Dynamic Microphone
Shure Beta 58 A Dynamic Microphone
Samsung Dynamic Microphone
Amplifiers
Misc Studio Gear
IMG Stageline DOB 10 4 Channel Passive DI Box
Behringer Power-play Pro 8 Headphone Amplifier 8 channel
12 Channel stage box 4 Stereo Out
Sennheiser EW100 G3 Radio Microphone System + Lav Mic
Technics CD Player
BSS audio AR133 Active DI Box
Samsung S Direct DI Box
Studiospares Dual passive DI Box x 2
Guitar Amplifiers
Fender Vibro Champ XD Guitar Amplifier x 2
Roland Street Cube Portable Amplifier x 2
Randall RH 150 Val Dynamic Tube Guitar Amplifier
Roland cube 80X Guitar Amplifier
Orange Bass Cabinet
Marshall Amplifier Head
Fender Deluxe Reverb Guitar Amplifier
Fender Twin Guitar Amplifier
Fender Super Champ XD Guitar Amplifier
Pevey Solo Series Bandit 112 Guitar Amplifier
TK Solid-state TS10 Guitar Amplifier
Roland Acoustic Chorus AC 60 Guitar Amplifier
Marlin Reverb 25 Guitar Amplifier
Roland Micro Cube Guitar Amplifier
Small Guitar Amplifier 58
Subzero G4 110 Guitar Cabinet
Orange Micro Terror Guitar Amplifier
PVCA15 Guitar Amplifier
Fender Stage 11 2SE Guitar Amplifier
Other
Video
NECNP100 Projector Screen
HP Elite Display E24 1A
LG LPS LED Display
Lighting
Photo SCL Light and Stand
Showtech LED Operator I Light Mixer
---
Electric Guitars
Fender Starcaster Electric Guitar
Yamaha Silent Guitar SLG10 0N
Jagared Lap Steel Guitar
Hofner Red Electric Guitar
Airline Bigsby Baritone Electric Guitar
Fender Stratocaster MN Electric Guitar
Revelation TSS guitar Electric Guitar
Epiphone Electric Guitar
Fender Stratocaster Electric Guitar
Airline Baritone Electric Guit
Bass Guitars
Customised Brown Short Scale Bass Guitar
PV Milestone Electric Bass guitar
Hofner Electric Bass Guitar H1BB
Acoustic Guitars
Ozark Steel Body Acoustic Guitar
Fender Acoustic Guitar
Vintage Acoustic Guitar
Electronic Drums
Waldorf Rack Attack Drum Synthesiser
Roland SPDSX Sampling Pad
AKAI Rhythm Wolfe Drum Machine
Outboard Effects & Signal Processors
Melos Analog Delay DE1
TLA Ivory Series C5012 Valve Compressor
DODSR 430 QX Graphic Equaliser
Art Studio V3 tube MP Preamp
Lexicon MPX 100 Dual Channel Multi Effects Processor
DBX26 6XL Compressor and Gate
Art Pro VLA II Valve Compressor
Altai Echo Chamber Effects Processor
Mixing Consoles
Soundcraft 500 Series 16 Channel Mixer
Digidesign DG002 Digital Controller Mixer
Soundcraft Spirit 12 Channel Mixer - Lexicon FX
Allen and Heath G3 16 channel mixer (unused)
Alesis 4 Channel Mixer
Eurorack 8 Channel Mixer
Eurorack 16 Channel Mixer
Speakers
Pair of Technics SBCS5 Passive Speakers
Pair of ATC SCM7 Passive Monitors
Pair of Yamaha HS5 Active Monitor Speakers
NEKKST K 10 S Sub Woofer Speaker
Yamaha Speaker S112 1V PA x 2
Laney CX P110 Foldback Speaker
Pair of Yamaha HS7 Monitors
Headphones
Sony MDR 7506 Professional Headphones
Beyerdynamic DT990
Beyerdynamic DT880
Studio Hardware
Studio Spares Mic Stand x 3
Various keyboards Stands x 8
Various Microphone Stands x 15
Bass Amplifiers
Ashdown Engineering Electric Blue 180EV02 Bass Guitar Amplifier
Orange Bass Cabinet
Marshall Amplifier Head
Fender Bass Breaker Cabinet
Fender Black Bass Amp
Amplifiers
JVC AE5 Stereo Integrated Amplifier
Sony TAFE370 Integrated Stereo Amplifier
Laney CD100 PA Speaker Amplifier
---
Drums
Mapex Venus Series Small Snare
Pearl Forum Series Chrome Drum Kit with Remo Animal Skin
Tama Maple Studio Snare 14"
Gretsch Yellow Drum Kit
Pearl Travellers Kit
Various Drum Hardware
Mapex Green Drum Kit Armdry Series
Yamaha Drum Kit
Cymbals
Bosphorous Traditional Series Rivet Cymbal
Istanbul Jazz Ride 20" Special Addition
Zildjian Light Hi Hats
Zildjian Constantinople 20" Medium Thin Ride
Bosphorous 14" Dry Hi Hats
Stag SH 14" Hi Hats
Home-made Pearl Rivet Cymbal
Dream Series Small 12" China
Zildjian SBT Splash Cymbal
Percussion
Pair of Natal Cubana Congas
Pair of Latin percussion Congas
Tablas
Latin Percussion Aspire Bongos
Various Percussion (Shakers etc)
Turkish Darboka
Audio Interfaces
Focusrite Sapphire Pro 40 Audio Interface x 2
Focusrite Scarlet i2i Audio Interface
Focusrite Scarlet 18i20 Audio Interface
Digidesign 4 Channel Audio Interface
Focusrite Claret8Pre Audio Interface
Motu 828MK3 Audio Interface
Tape Recorders
AKAI 4000 DS MKII Tape recorder
Sony Stereo Cassette Deck TCWE475
Coomba 393 Casette Tape Recorder
Guitar Pedals
Boss DS1 Distortion Pedal
H20 Liquid Chorus and Echo Pedal
Electroharmonics Double Muff Distortion Pedal
Blues Pro Overdrive Pedal
Deadbeat Wet Dreams Chorus Pedal
Line 6 DL4 Delay Modeller Pedal
Fender Channel Selector
Mr Black Supermoon Reverb Pedal
Boss RE-20 Space Echo Delay Pedal
Polytune TC Electronic Pedal
Fulltone OCD Distortion Pedal
Blues Breaker Drive Guitar Pedal
Electroharmonics Stereo Pulsar Tremolo Pedal
Moog MF Delay Pedal
Fairfield Circuitry Shallow Water Pedal
Yellow Fender Pedal
Cables
Various XLR cables
Various Jack Cables (Instrument Cables)
Acoustic Treatment
Various Acoustic Panels
Various BBC Absorption Panels